Your Wellness Architect
Build a Healthier Life
Your Personalized Health Builder
Your health goals are unique to you, which is why you need a plan designed specifically for you to achieve optimal health. Shaklee Healthprint is a powerful tool that harnesses the work of award-winning Shaklee doctors, scientists, and nutritionists to create nutrition plans customized for you. Answer a few questions and we'll recommend a combination of products that are personalized for your individual needs. We'll also provide you with health insights and recommendations to help point you down the path to a healthier life.
How It Works
Take a few minutes to answer the questions on the health assessment
Review a variety of health tips and insights based on your answers
Choose a customized set of Shaklee products that fits your health goals, needs and budget
How Would You Feel About:
A boost in energy,
Better concentration and focus,
Improved digestion,
Reduced cravings for sugar, caffeine, fats and nicotine,
More restful sleep,
Strengthening your immune system?
Kick-start your weight loss with real results in 7 days.
The Fresh Start Cleansing Program is a comprehensive 7-day cleanse, followed by a 4-week "rebuild your health" program, based on proven scientific principles. It has been used for more than 20 years to help participants get a "fresh start" on their health.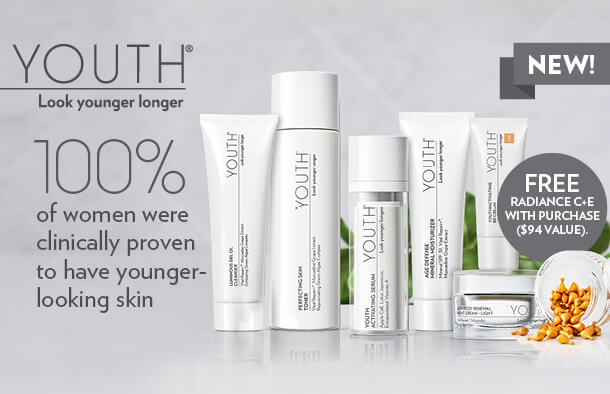 SPECIAL GIFT through December 31:
Get a FREE Radiance C+E ($94 value) when you purchase the new Advanced Anti-Aging Regimen and place on AutoShip. PLUS through September 30 ONLY: Receive an exclusive silver YOUTH cosmetic bag with each purchase of the new Advanced Anti-Aging Regimen. Preferred Members also receive Free Shipping with the purchase of either regimen on Auto-Ship.
When you purchase through September 30. 2017, you'll get the Free Radiance C+E ($94.15 SRP), plus, you'll receive an exclusive silver YOUTH cosmetic bag. When you reorder the Advanced Anti-Aging Regimen before September 30, you will still receive the YOUTH cosmetic bag with your purchase.
OFFER RULES
Must place order on AutoShip to receive Free Radiance C+E. Offer good while supplies last. The Free Radiance C+E offer is so amazing we're only offering it one time per Member or Distributor ID.
| | |
| --- | --- |
| How to order | Eligible orders must be placed online through MyShaklee.com, Shaklee.com, Shaklee Connect™, mobile, Shaklee PWS or the Shaklee Los Angeles Sales and Training Center.  Remember, the Free Radiance C+E offer is only for AutoShip orders. The Shaklee Los Angeles Sales and Training Center is excluded from this portion of the promotion. |
Get started on your wellness goals today.